Chocolate and pistachio m'hencha
Chocolate and pistachio m'hencha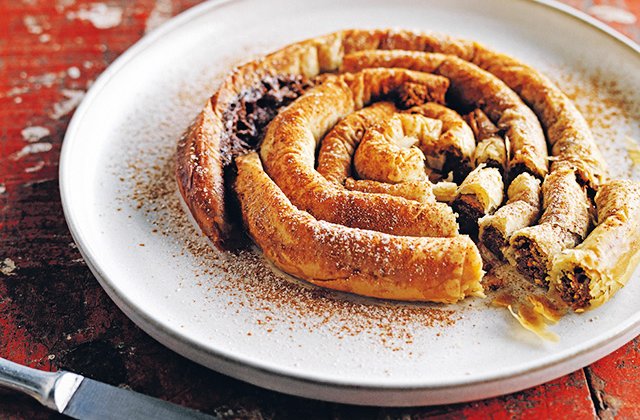 Bringing together the techniques and flavours of the old and new schools, Shane Delia shares his delightful dessert.
This dish was a meld of the refined Moroccan–French food I saw at the Selman hotel in Marrakech and the old-school beauty of a traditional m'hencha (a type of pastry cake) and makes a beautiful dessert at any dinner party.
The flavour combination that resulted was something that I am definitely going to put on the menu at Maha. I love the way the ginger comes into play with this dish.
Ingredients
200 g dark chocolate

350 g pistachio nuts

130 g palm sugar

Pinch of saffron powder

1 tbsp ground ginger

115 g butter, melted

8 sheets filo pastry
Method
Put the chocolate, pistachios, palm sugar, saffron, ginger and 2 tablespoons of the melted butter in a food processor and blend until finely ground (see note).
Preheat the oven to 180°C. Line a baking tray with baking paper.
Open out the sheets of filo, keeping them in a pile so they don't dry out. Take 1 sheet and brush with a little melted butter.
Take lumps of the chocolate nut paste and roll into fingers. Place them end-to-end on the top sheet of filo, then roll the filo up into a roll the thickness of your thumb, tucking in the ends. Repeat with the other filo sheets, until the filling is used up.
Press the filo rolls together from both ends, like an accordion, to relax the pastry before coiling it to make 8 small coils on the prepared baking tray.
Brush some extra butter over the pastry, then bake for 30 minutes or until golden and crisp.
Looking for more dessert ideas? Check out our dessert section or try these strawberry and fennel tarts.
This is an edited extract from Shane Delia's Spice Journey: Adventures in Middle Eastern Cooking, $49.99 from Murdoch Books.