Crème brulee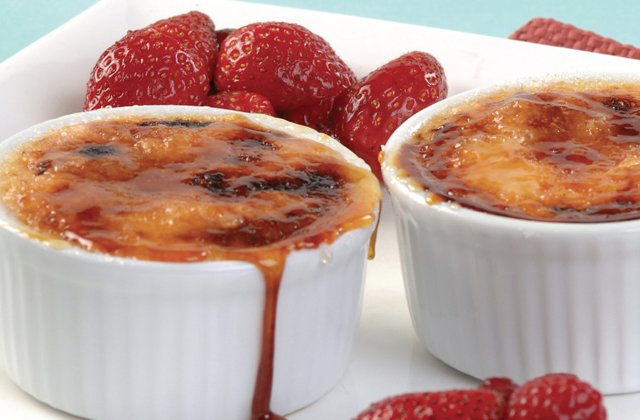 Satisfy your sweet tooth with this crème brulee recipe.
Ingredients (serves 6)
600ml low-fat thickened cream
1 vanilla bean, split, seeds scraped
125g caster sugar
7 egg yolks
Grated zest and juice of 1 lemon
Method
Preheat oven to 170˚C. Place cream and vanilla seeds in a saucepan and over medium heat bring to a boil. Simmer over low heat for 2 minutes. Remove from heat and cool.
Whisk ½ the sugar and yolks until pale. Add lemon zest and juice and whisk into cream mixture. Strain to remove solids and pour into ½ cup ramekins. Place ramekins into a roasting pan and pour boiling water into the pan until it's halfway up the sides of the ramekins.
Cover loosely with foil and bake in oven until just set with a slight wobble (about 30 minutes). Remove from pan and cool. Refrigerate for a couple of hours. Before serving, sprinkle remaining sugar on top and caramelise using a kitchen blow torch.