Summer berries with lavender yoghurt
Summer berries with lavender yoghurt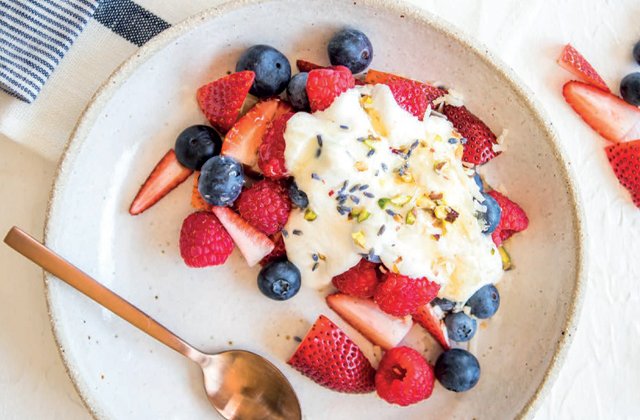 This bowl of berries and yoghurt has a blend of flavours and perfect balance. Fragrant lavender, tangy Greek yoghurt and delicious berries a combination not be missed.
Serves:3
1 cup Greek yoghurt
1 tsp honey
¼ tsp dried lavender leaves
1 punnet strawberries (250g)
1 punnet blueberries (125g)
1 punnet raspberries (125g)
1 tsp pistachios
1 tbsp toasted coconut flakes
Place yoghurt and honey into a small mixing bowl.
Break up lavender leaves in your hands and add to yoghurt.
Combine well and refrigerate while preparing the remaining ingredients.
Wash all berries well.
Quarter strawberries.
Add all berries to a bowl and mix carefully with your hands.
Roughly chop pistachios.
Divide berries between plates.
Top with yoghurt, coconut and pistachios to serve.