Coconut korma (vegan)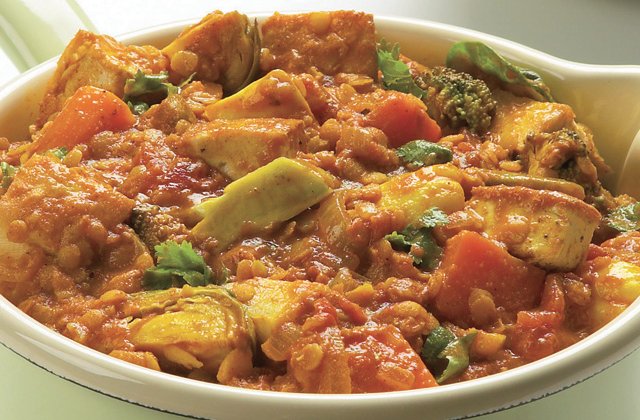 Looking for vegan recipes? This coconut korma recipe is packed full of seasonal veg and plenty of spices.
Ingredients (serves 2)
60ml oil
125g onion, sliced
2 cloves garlic, chopped
2½cm piece ginger, peeled and grated
3 cardamom pods, split
1 tbs curry paste
1 tbs tomato puree
400g can chopped tomatoes
75g red lentils
350g tofu, cubed
500g seasonal vegetables, chopped into bite-size pieces
1 tsp ground coriander
1 tsp ground cinnamon
1 tsp ground cumin
1 tsp ground turmeric
Salt and pepper, to taste
600ml vegetable stock
150ml coconut milk
2 tbs chopped fresh coriander
Rice, to serve
Method
Heat a tablespoon of the oil in a large deep frying pan. Fry onion, garlic, ginger and cardamom pods for 5 minutes. Add curry paste, tomato puree, tomatoes and lentils. Cook for further 10 minutes.
Heat the remaining oil in a separate pan and stir-fry tofu for 5 minutes. Add the vegetables and spices, season and cook for 10 minutes.
Stir in the tomato and lentil mixture. Add stock, cover and simmer for 20 minutes or until lentils are almost cooked, stirring occasionally. Stir in the coconut milk and coriander, reserving a little for garnish.
Cook uncovered for a further 10 minutes. Garnish with coriander and serve with rice
Browse more delicious recipe ideas or connect with us on Facebook!