Pumpkin & pear soup with crumbled Stilton
Pumpkin & pear soup with crumbled Stilton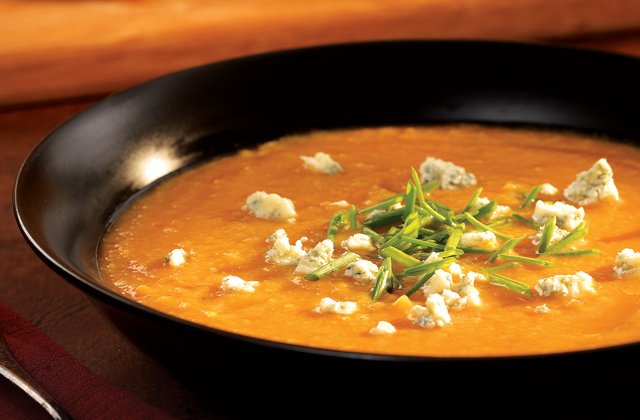 Pears are roasted to sweet perfection with butternut pumpkin and puréed to create a creamy soup that gets a luxurious garnish of Stilton cheese.
You can serve this as a first course or with a salad and crusty bread for a light autumn supper.

Ingredients (serves 6)
2 ripe pears, peeled, quartered and cored
1 kg butternut pumpkin, peeled, seeded and cut into 5 cm chunks
2 medium tomatoes, cored and quartered
1 large leek, pale green and white parts only, halved lengthwise, sliced and washed thoroughly
2 cloves garlic, crushed
2 tbsp extra-virgin olive oil
1⁄2 tsp salt, divided
Freshly ground pepper to taste
4 cups vegetable broth or reduced-sodium chicken broth, divided
2⁄3 cup crumbled Stilton or other blue-veined cheese
1 tbsp thinly sliced fresh chives
Salt and pepper, to taste
Method
Preheat oven to 200°C.
Combine pears, pumpkin, tomatoes, leek, garlic, oil, salt and pepper in a large bowl; toss to coat. Spread evenly on a large rimmed baking sheet. Roast, stirring occasionally, until the vegetables are tender, 40 to 55 minutes. Let cool slightly.
Place half the vegetables and two cups broth in a blender; purée until smooth. Transfer to a large saucepan. Purée the remaining vegetables and two cups broth. Add to the pan and stir in the remaining ¼ teaspoon salt.
Cook the soup over medium-low heat, stirring, until hot, about 10 minutes. Divide among 6 bowls and garnish with cheese and chives (or shallots).
Author: Shannon Dunn