Sesame-bean burgers (gluten free)
Sesame-bean burgers (gluten free)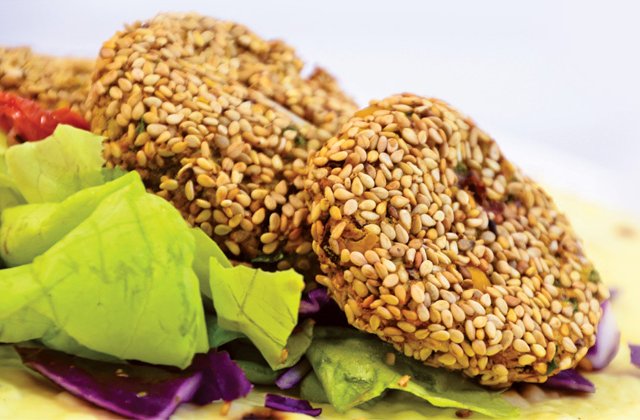 Looking for recipes that are high in fibre and gluten free? These sesame-bean burgers are a great vegan option.
Ingredients (Makes 10 big burgers 
or 20 mini burgers)
Burger
2 cups of cooked brown lentils
1 cup chickpeas, mashed
1 large potato, grated
1 cup fresh gluten-free bread crumbs
½ cup finely chopped chives
1 cup chopped coriander
Juice from 1 lemon
3 tsp curry Madras powder
1 tsp curry flakes
1 chia seed egg (1 tbsp chia seeds 
soaked in 2 tbsp water)
Sesame seeds to coat
Wrap (optional)
Gluten-free wrap
Sweet chilli sauce
Salad
Method
Heat oven to 200ºC. Mix ingredients together and leave for 15 minutes – this will soften the breadcrumbs and allow the flavours to infuse.
Using your hands, mould balls, squeeze out any excess liquid and roll in the sesame seeds. Place on a baking tray and continue until all the mixture is used and bake for 15 minutes.
Carefully flip and bake for another five minutes, then serve with a gluten-free wrap, salad and sweet chilli sauce.
Recipe from Adele at Vegie Head