Parsnip oatmeal cookies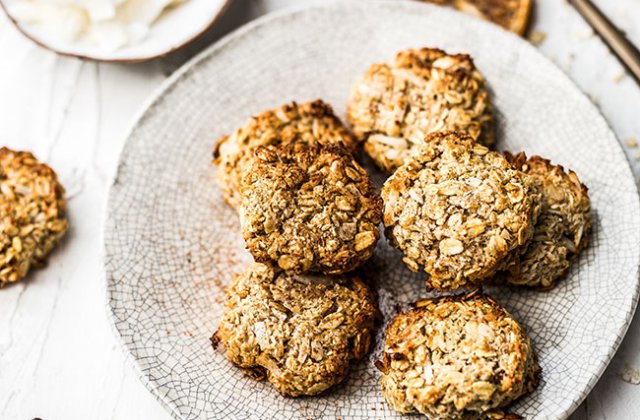 Parsnips are packed with vitamin C in addition to an impressive range of other micronutrients, so these cookies by Sally O'Neil are definitely a winner.
Ingredients
1 cup quick oats
½ cup unsweetened shredded coconut
¼ cup almond meal
½ cup granulated stevia
1 medium parsnip, finely shredded
1 tsp baking powder
¼ tsp sea salt
3 egg whites
⅓ cup coconut oil, melted
1 tbsp maple syrup or natural sweetener of choice (optional)
1 tsp vanilla extract
1 orange, zested
Method
Preheat oven to 180°C.
In a large bowl, add the oats, coconut, almond meal, stevia, parsnip, baking powder and salt, mixing well.
Add in the egg whites, coconut oil, maple syrup, vanilla and orange zest, combining well. If the batter is a little thick, squeeze in a few tablespoons of the orange juice. If it's a little loose, add additional almond meal until the mixture holds together when pressed between thumb and forefinger.
Taking tablespoons of the mixture, shape the mixture into cookies.
Place on a lined baking tray, and bake for 10 to 15 minutes until golden brown.
Allow to cool and store in a glass, airtight container.