The ultimate chocolate & avocado torte
The ultimate chocolate & avocado torte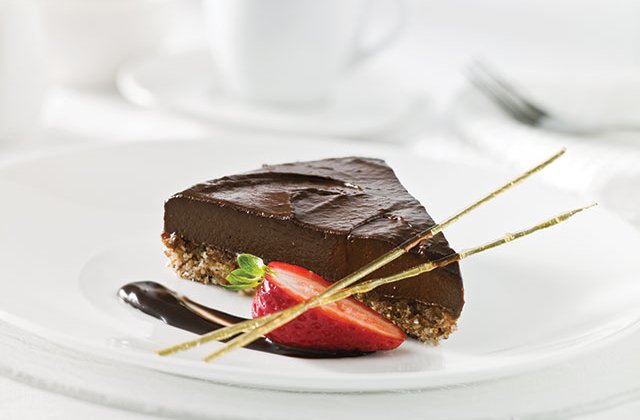 Treat your guests to this delicious chocolate and avocado torte at your next dinner party.
Ingredients (serves 12)
Base
150 g desiccated coconut
150 g macadamia nuts (lightly toasted)
1 tsp ground cinnamon
150 g pitted dates
Topping
2 avocados
1 banana
15 ml vanilla extract
150 g cocoa powder
120 ml maple syrup
Method
In a food processor, combine the coconut, macadamia nuts, cinnamon and dates.
Process until the mixture combines, then press firmly into the bottom of a lined 20-centimetre spring-form baking tin.
In the same processor, combine the avocado, banana, vanilla, cocoa and maple syrup. Process until smooth and creamy.
Spoon over the base then refrigerate for 2 hours or until it firms up.
Remove from the tin and serve with chocolate sauce or raspberry coulis, garnish with fresh strawberries/raspberries.
NOTE: This torte is gluten free, wheat free, dairy free and suitable for vegans. You can also remove the base and serve as a mousse. Or, try spooning the avocado/chocolate mixture into an ice-cream machine to make chocolate and avocado ice-cream.
Food photography and recipes: Australian Avocados.