Mini chia cheesecakes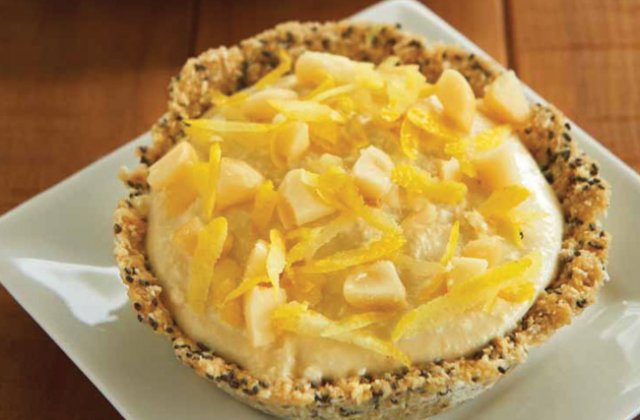 These mini cheesecakes are a great way to round off a dinner party.
Ingredients (makes 6)
Crust
1 cup shredded coconut
1 tbsp chia seeds
½ cup linseed meal
½ cup quinoa flakes
Pinch salt
1 tbsp maple syrup
1 tbsp virgin coconut oil
1 tbsp agave syrup
1 tbsp date paste (1 fresh date and 1 tsp 
agave syrup, blended)
Filling
1 cup cashews, soaked 1 hour and drained
1 cup macadamia nuts, soaked 1 hour
1 cup lemon juice
3 tbsp agave syrup
1 tbsp maple syrup
1 dessertspoon vanilla essence
3 tbsp virgin coconut oil, melted
½ large lemon, zested
1 tbsp chia seeds
METHOD
Make the crust. Mix all ingredients together with a spoon, and, using clean hands, press mixture into cupcake patty tins. Press well up the sides. Place in freezer.
Make the filling. Place all ingredients in a food processor and blend until smooth. Remove tray from freezer and add filling. Garnish with lemon rind and crushed macadamia nuts. Serve.
NEXT: Chia chocolates recipe>>
Recipe from Cooking With Chia by Nicky Arthur; Photo credit: Graeme Gillies