Paleo Salted Caramel Slice
Paleo Salted Caramel Slice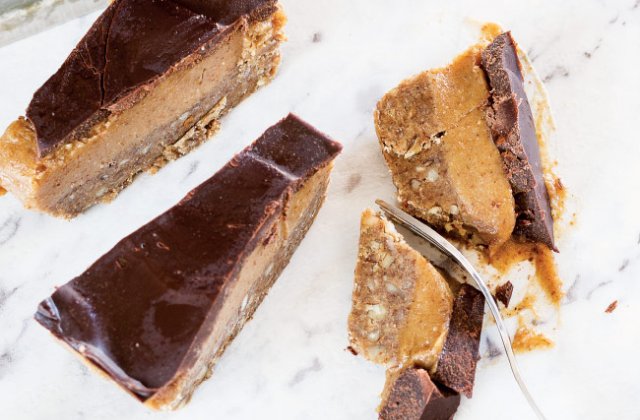 Tuck into this delightful salted caramel treat and if by any chance you have leftovers, store them for snacks.
Ingredients Serves 8
200 g pitted medjool dates
100 g tigernut flour
100 g pecan or almond meal
2 tbsp cashew butter
1 tbsp rice malt syrup
1 tbsp cashew butter (extra)
1 tsp natural vanilla extract
½ tsp Himalayan sea salt
3 tbsp raw cacao powder
3 tbsp coconut oil
1 tbsp rice malt syrup
Method
Soak the pitted dates in hot water for 10 minutes.
In a bowl add the tigernut flour, nut meal, cashew butter and rice malt syrup.
A little at a time, pour in the leftover date water in the bowl and mix until a dough forms.
Press the dough into the bottom of a lined baking dish and set aside.
Make the caramel by processing the soaked dates in a food processor or blender with the cashew butter, vanilla and salt until smooth.
Spread the caramel over the dough layer.
Place the cacao, oil and rice malt syrup in a heatproof bowl over a saucepan of simmering water and stir for 2 to 3 minutes or until well combined. Pour over the date caramel and freeze for 1 to 2 hours or until set.
Slice into bars and serve.