Rhubarb & apple pie recipe
Rhubarb & apple pie recipe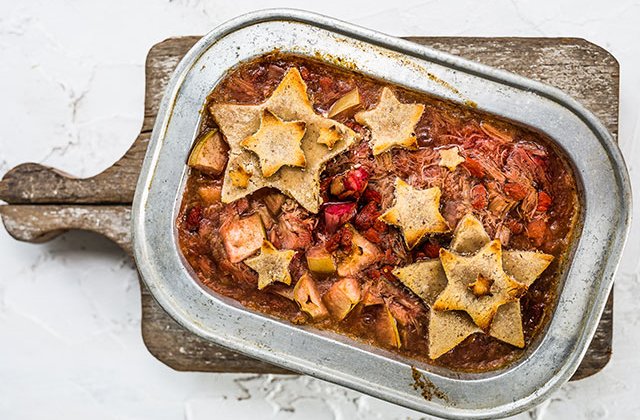 Winter puddings aren't complete without an apple pie of some sort. The sharpness of rhubarb compliments the sweet apples perfectly. Significantly less pastry than most pies, but deliciously satisfying all the same.
Ingredients (serves 4)
4 large sticks of rhubarb, chopped
2 Granny Smith apples, cored and chopped
¼ cup goji berries or raisins
¼ cup stevia
2 tsp cinnamon
Pastry
4 tbsp coconut oil
4 tbsp maple syrup
4 tbsp water
1 tsp vanilla essence
¼ tsp sea salt
4 tbsp tapioca flour
4 tbsp almond meal
¼ cup coconut flour
½ ripe banana, mashed
Method
In a medium pan, add the fresh and dried fruit, along with the stevia and cinnamon.
Pour over 1 cup boiling water and cook over a medium heat, stirring occasionally for 5 to 8 minutes until soft.
Pour the rhubarb and apple mix into a baking dish, and set aside while you prep the pastry.
Preheat the oven to 180°C.
In a bowl, mix the coconut oil, maple syrup, water, vanilla and salt.
Stir in the flours and mashed banana.
Roll the dough between two sheets of baking paper and use cookie cutters to cut out shapes.
Lay over the pie filling and bake for 20 to 25 minutes or until the pastry turns golden.
Remove and allow to cool for 20 minutes before serving warm.
Words, recipes and photography: Sally O'Neil.