Coco-lime cupcakes (vegan)
Coco-lime cupcakes (vegan)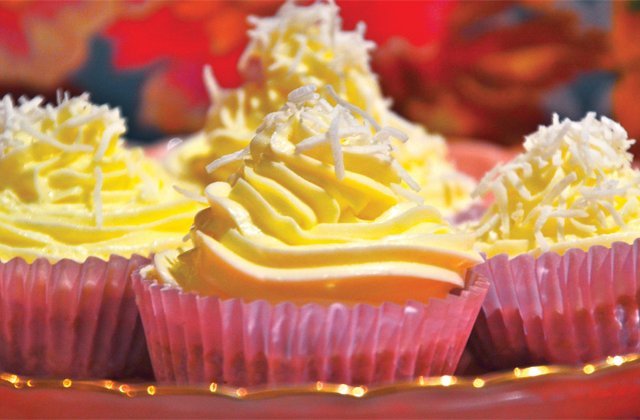 Adele from Vegie Head shares her vegan cake recipes.
Ingredients (makes 12)
¼ cup coconut oil or vegetable oil
½ cup raw coconut sugar
1 tsp lemon zest
1 tsp lime zest
1 cup rice/almond milk
½ cup low-fat coconut milk
1 tsp vanilla essence
1 tsp ground cinnamon
1 cup wholemeal flour
1 tsp baking powder
Lemon/lime icing
1 cup vegan margarine (like Melrose)
1 tsp lime juice
1 tsp lemon juice
1 cup coconut sugar
Blend coconut sugar, margarine, lime and lemon juice really well until light and fluffy.
METHOD
Pre-heat the oven to 180ºC.
Whisk the melted coconut oil/vegetable oil and the coconut sugar together.
Add the lemon and lime zest, rice milk/almond milk, coconut milk, vanilla essence and cinnamon, and whisk gently.
Mix the flour and baking powder together, then pour the wet ingredients in and stir lightly, just to mix, then pour into patty pans.
Bake for 20 minutes or until a skewer comes out clean. Allow to cool, completely.
Using a piping bag, swirl the icing on top of the cupcakes and top with shredded coconut.
Recipe from Adele at Vegie Head.

Browse more cake recipes or connect with us on Facebook!