Gluten free Anzac biscuits
Gluten free Anzac biscuits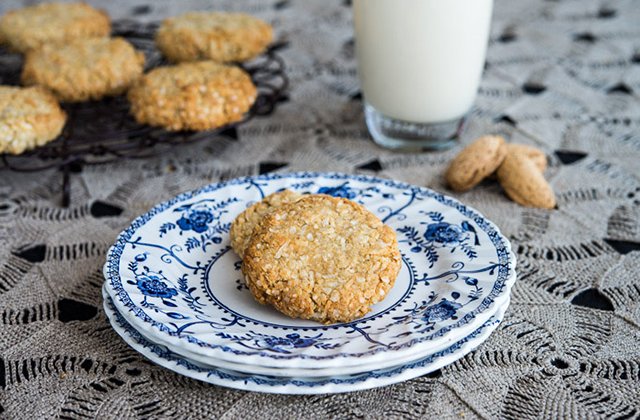 Among menu Australian favourites like lamingtons, Anzac biscuits have a place in our hearts.
For those with gluten sensitivies and coeliacs, these gluten free Anzac biscuits by the Almond Board of Austarlia are dairy-free and good for anyone with food intolerances.
Ingredients (serves 9)
1 cup almond meal
1 + ⅔ cup quinoa flakes
1 cup shredded coconut
3 tablespoons vegetable oil
½ cup brown sugar
4 tablespoons treacle, golden syrup or rice malt syrup
1 teaspoon vanilla bean extract or essence
¼ cup water
Method
Line a baking tray with baking paper and preheat oven to 160 degrees Celsius.
Place all ingredients into a mixing bowl and mix with a wooden spoon until thoroughly combined.
Use a spoon or ice cream scoop to scoop out a large ball and place it on the baking tray. Flatten slightly with the palm of your hand and repeat until the mixture is used up.
Bake for 25 minutes or until edges are browning slightly.
Leave on tray for 10 minutes and then remove to rack to cool completely.
Makes 9-10 large biscuits.
Recipe via Amazing Almonds.