Beetroot chips with ras el hanout jackfruit souvlaki
Beetroot chips with ras el hanout jackfruit souvlaki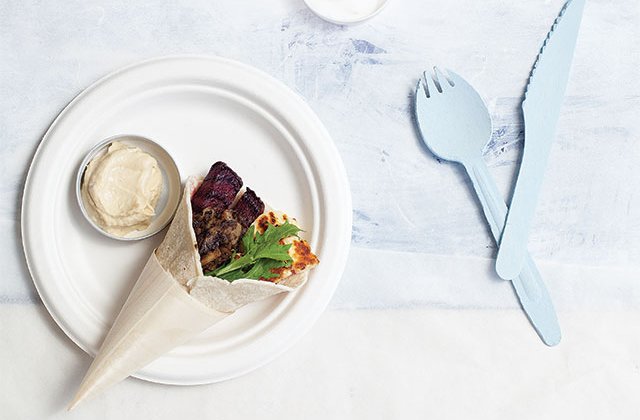 Try this fresh summer feast that's perfect for any food lover.
Ingredients (serves 4)
For the beetroot chips
2 large beetroots (peeled)
2 tbsp coconut oil
Large pinch salt
Pinch cracked black pepper
For the ras el hanout jackfruit
500 g tin jackfruit in brine (drained, rinsed)
2 tbsp coconut oil
1–2 tbsp ras el hanout spice
To serve
4 gluten-free wraps
1 cup rocket (washed)
8 slices grilled halloumi
4 tbsp hummus
4 tbsp tzatziki
Chilli sauce and garlic, if desired!
Method
Start by cutting the beetroots into chip-size pieces. Place onto a lined baking tray in a preheated 180ºC oven and coat with the coconut oil, salt and pepper.
Allow to cook until crisp on the outside and soft in the middle (around 30 minutes).
For the jackfruit-style souvlaki meat, place the jackfruit, coconut oil and ras el hanout spice into a small saucepan. Cook for 20 minutes or until coated and warmed through. Add in 1 tbsp water at a time if needed or jackfruit begins to stick.
To serve, grab a gluten-free wrap and place in 2 slices grilled halloumi, ¼ cup of rocket, 3 to 4 beetroot chips and a portion of the jackfruit meat. Top with 1 tbsp each of tzatziki, hummus and chilli or garlic sauce and enjoy immediately.
Recipe by Kate Bradley, Kenko Kitchen.
NEXT: For more gluten and dairy free summer goodness try the fish and triple cooked chips by Kenko Kitchen.