Okra & chickpea tagine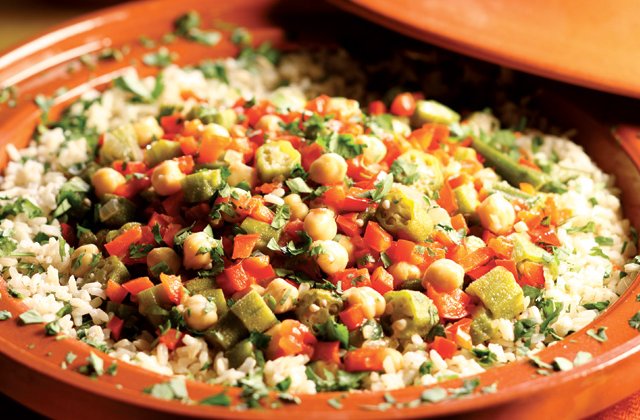 This quick and easy okra and chickpea stew is full of Moroccan flavours.
The name 'tagine' refers to the two-part, cone-shaped casserole dish in which countless slow-cooked Moroccan dishes are prepared. You don't need to prepare this in a tagine dish – it works well in a large saucepan – but if you have one, here's a chance to use it.
Ingredients (serves 6)
500 g fresh or frozen okra, stem ends trimmed, cut into 1 cm pieces
10 sprigs fresh coriander, plus more leaves for garnish
2 tbsp extra-virgin olive oil
1 red capsicum, finely diced
1 medium onion, finely diced
3 cloves garlic, minced
½ tsp ground ginger
3 tomatoes, diced, or 1 cup drained canned diced tomatoes
½ cup vegetable broth or reduced-sodium chicken broth
¾ tsp ground cumin
1 x 240 g can chickpeas, rinsed
Salt and pepper, to taste
1 tsp harissa (see recipe note) or hot sauce, or to taste
Method
Place a large bowl of ice water next to the stove. Bring a large saucepan of water to a boil. Add okra and cook for two minutes. Transfer the okra with a slotted spoon to the ice water. Drain.
Tie coriander sprigs together with kitchen string.
Heat oil in a tagine dish set over a heat diffuser or a large saucepan over medium-high heat. Add capsicum. Cook, stirring, until soft, two to five minutes. Transfer to a bowl with a slotted spoon.
Add onion, garlic, ginger and pepper to the pan. Cook, stirring, until the onion is soft, three to six minutes. Mix in tomatoes, broth, cumin, the okra, coriander sprigs and half the capsicum. Reduce heat to medium; partially cover. Cook, stirring occasionally, until the okra is soft, 10 to 15 minutes. Stir in chickpeas and salt; cook for four minutes. Remove from the heat; discard the coriander sprigs. Stir in harissa (or hot sauce). Serve sprinkled with the remaining capsicum and coriander leaves, if desired.
Recipe note
The dried stigma from Crocus sativus, saffron adds flavour and golden colour to a variety of Middle Eastern, African and European foods. Find it in the spice section of supermarkets and gourmet. It will keep in an airtight container for several years.
Recipe by Kitty Morse