Roast tomato & capsicum soup
Roast tomato & capsicum soup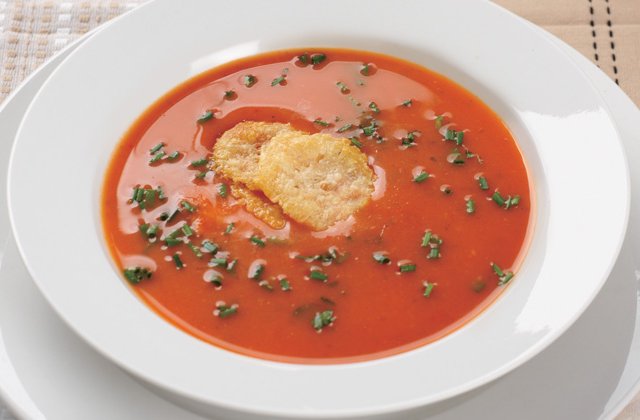 The perfect winter warmer!
Ingredients (serves 2)
1 red onion, diced
½ head garlic
4 Roma tomatoes
1 cup tinned tomatoes
1 large red capsicum
2 tbs fresh chopped parsley
1 tbs dried oregano
2 tbs freshly grated Parmesan cheese
2 cups fresh chicken or vegetable stock (or salt-reduced commercial type)
Method
Cut the capsicum into quarters and remove the seeds. Cut the tomatoes into halves. Slice the top off a head of garlic.
Pre-heat the oven to 180˚C. Place tomatoes, capsicum, onion and garlic on a roasting tray. Sprinkle dried oregano on top of the tomatoes. Cook for 30 minutes, turning over the capsicum and tomatoes after 15 minutes.
Remove the roasting tray from the oven and place capsicum into an air-tight container for five minutes. Place the roasted tomatoes, tinned tomatoes, onions and parsley into a saucepan, along with the stock, and simmer for about 15 minutes.
Squeeze out the garlic and place about three cloves into the soup. Leave the remaining garlic to spread over bread if desired. Remove skin from the capsicum and place the skinless flesh into the soup.
Once the soup is cooked, allow to cool before placing in a blender to puree. Place the soup back in the saucepan and cook for a further five minutes on low heat. Ladle soup into bowls and sprinkle some of the chopped parsley on top.
Browse more recipe ideas or kick-start your healthy eating plan today!