Mandarin jelly with rosewater yoghurt & spiced nuts
Mandarin jelly with rosewater yoghurt & spiced nuts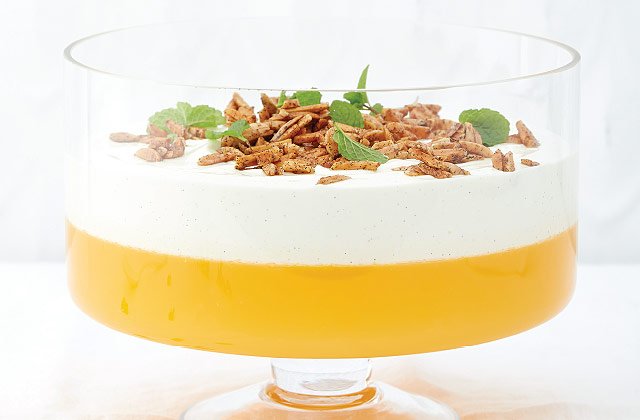 A light, fruity dessert combining mandarin jelly, rosewater yoghurt & spiced nuts.
Serves 8
Ingredients
For the jelly
800ml freshly squeezed mandarins, approx. 16 to 20 mandarins
4 tsp gelatine powder
½ cup boiling hot water
For the yoghurt
400g Greek yoghurt
400g mascarpone or crème fraiche
3 tbsp rose water
2 tbsp maple syrup
½ tsp vanilla powder or 1 vanilla pod seeds
For the spiced nuts
½ cup slivered almonds
2 tsp maple syrup
¼ tsp vanilla powder or ½ vanilla pod seeds
¼ tsp cinnamon
Mint leaves to garnish
Method
For this recipe you need a trifle dish or a large glass vessel to serve. After squeezing the mandarins, strain the liquid into a large jug so it is smooth and free from pulp. Mix boiling water and gelatine together in a bowl until dissolved then mix together with mandarin juice. Pour the liquid into your serving dish. Place this in the fridge to set for eight hours or overnight.
To make the nuts, preheat an oven to 150°C. You want the oven on a lower temperature to ensure the nuts crisp slowly and don't burn. Mix all ingredients together well and scatter over a lined baking tray. Cook between 15 and 20 minutes or until the nuts are golden brown and crisp. Set aside to cool.
Mix the yoghurt, cream, maple syrup, rose water and vanilla gently together. Once the jelly is set spoon the yoghurt mix on top. Scatter the top with the spiced nuts and fresh mint just before serving.
Recipe from Gemma Lush; photo credit: Phu Tang
Browse more dessert ideas or connect with us on Facebook!