Tangy lime tart recipe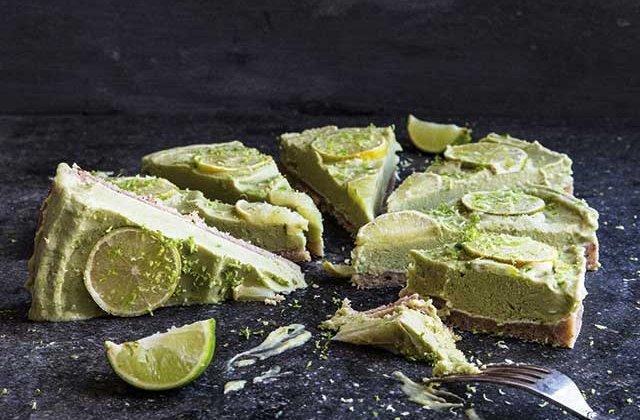 This tangy tart is the perfect entertaining treats It's simple, light and incredibly refreshing. Made with potassium-rich avocados and detoxifying limes, it also boasts a superior nutritional profile.
Ingredients
Crust
300 g (2 cups) cashews
90 g (1 cup) desiccated coconut
75 g (½ cup) medjool dates, pitted
60 ml (¼ cup) rice malt syrup
1 tsp vanilla powder
2 tbsp lime juice
Pinch of Himalayan salt
Filling
Flesh from 4 large ripe avocados
125 ml (½ cup) lime juice (you'll need about 5 limes)
Grated zest of 8 limes
125 ml (½ cup) rice malt syrup
1 tsp vanilla powder
Pinch of Himalayan salt
Topping
2 limes, thinly sliced
1 tbsp lime zest
Line a 25-centimetre round cake tin with baking paper.
Method
Put the cashew nuts in a food processor and chop into small pieces. Add all the other crust ingredients and blend until the mixture is combined and sticky.
Press the mixture into the base of the cake tin and refrigerate while making the filling.
Clean out the food processor. Place all the filling ingredients in the processor and blend until smooth. Pour the filling over the crust and freeze overnight, or until set.
The tart will keep in an airtight container in the freezer for 4 to 6 weeks. Remove from the freezer 1 to 2 hours before serving. Decorate with the lime slices and lime zest before cutting into wedges.
This recipe is a Taline Gabrielian's new book Hippie Lane, The Cookbook published by Murdoch Books and available at all good bookstores. $39.99.
NEXT: Try this delicious tiramisu for another dessert treat.