Fudgey chocolate sweet potato cookies with tahini caramel
Fudgey chocolate sweet potato cookies with tahini caramel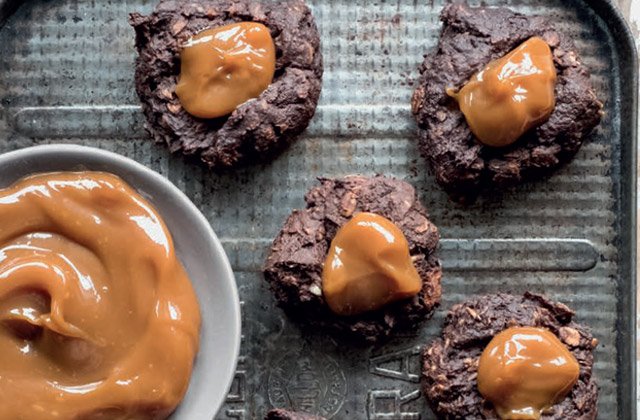 A little hidden veg in sweets and baking is a great way to enjoy a treat with added benefits!
The tahini caramel is a fab little way to add a good dose of calcium to your day as well!
MAKES AROUND 12
Ingredients
1 cup mashed sweet potato
½ cup oats
2 tbsp maple syrup
3 tbsp cocoa powder
1 tsp baking powder
Pinch of salt
1 egg
¼ cup macadamia nut butter (or alternative)
Tahini caramel
⅓ cup tahini
3–4 tbsp honey (depending how sweet you like it)
Pinch of sea salt
4 tbsp milk of choice
Preheat oven to 170°C (fan-forced).
Place all cookie ingredients into a bowl and combine well.
Spoon equal portions onto a lined baking tray, gently pressing down to flatten with a fork. You ideally want your cookie dough portions to be a bit smaller than a golf ball.
Bake for 30 minutes (you may need to adjust cooking time depending on how large or small you make your cookies) then set aside to cool.
In the meantime, place tahini caramel ingredients into a saucepan and heat gently stirring to combine.
Once combined and thickening up (after a couple of minutes), remove from heat and set aside.
Cool cookies then add a teaspoon of the tahini caramel to the centre of your cookies. Enjoy!