Crepes suzette (gluten free)
Crepes suzette (gluten free)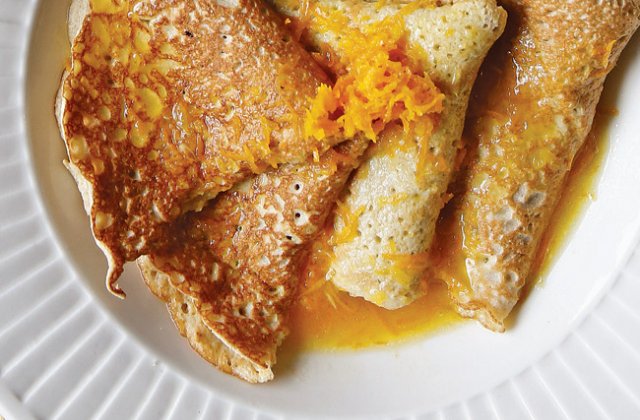 If you love crepes, you'll love this delicious, healthy take on crepe suzette!
Ingredients
Crepes
4 large organic free-range eggs
¾ cup almond milk
¼ cup sifted coconut flour
1 tbsp buckwheat flour
¼ tsp vanilla essence
1 tsp stevia
Pinch of salt
Cold-pressed coconut or extra-virgin olive oil, for frying
Orange Sauce
1 tbsp coconut oil
200 ml freshly squeezed orange juice (around 1 large navel orange)
1 tbsp orange zest
1 tbsp lemon juice
1 ½ tbsp pure maple syrup
1 tsp stevia
Method
To make the crepes, place eggs into a mixing bowl and whisk together with the almond milk. Add in the coconut and buckwheat flours, vanilla essence, stevia and salt and whisk until well combined. Set aside allowing the coconut flour to soak and absorb the liquid.
In a small saucepan, bring all the orange sauce ingredients to a boil. Reduce heat and allow to simmer for 10 minutes to caramelise, stirring occasionally.
To cook your crepes, heat a non-stick fry pan with coconut oil or cold-pressed extra-virgin olive oil (mine tend not to stick as much with olive oil) and pour mixture in, tilting the pan to create a nice even crepe.
When bubbles start to pop all over the crepe, carefully place your spatula under the crepe and flip to cook the other side. Once all crepes are cooked, place in a bowl and serve immediately with your orange sauce.

Recipe and images from A Conscious Collection by Brooke Meridith