Lemon, coconut & passionfruit popsicles
Lemon, coconut & passionfruit popsicles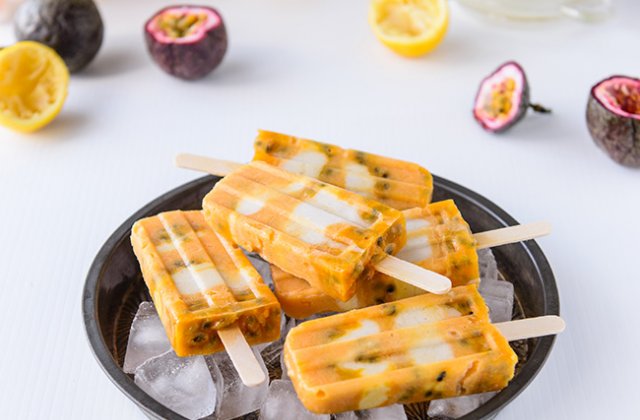 Cool off with these delightful passionfruit popsicles by the talented Jennifer Jenner of 84thand3rd.
Ingredients (Serves 6)
¾ cup passionfruit pulp
1 cup coconut yoghurt
1 tsp vanilla paste
Maple syrup, to taste
1 cup lemon curd, homemade or store-bought
2 tbsp water
Method
Scoop pulp from passionfruit. Combine coconut yoghurt and vanilla paste, add a splash of maple syrup if you wish. Stir water through lemon curd to thin slightly.
Drop a generous spoonful of lemon curd into your popsicle moulds. Top with a drizzle of passionfruit pulp followed by a generous spoonful of yoghurt.
Continue to layer lemon, passionfruit and yoghurt, finishing off the top of each popsicle with a good layer of passionfruit.
Freeze at least 4 hours or overnight. Dip moulds briefly in cold water before removing popsicles.
Note: Instead of coconut yoghurt you can use coconut cream or coconut milk, natural or vanilla dairy yoghurt, or even softened vanilla ice cream.
Recipe by Jennifer Jenner