Yellow paw paw and prosciutto pizza
Yellow paw paw and prosciutto pizza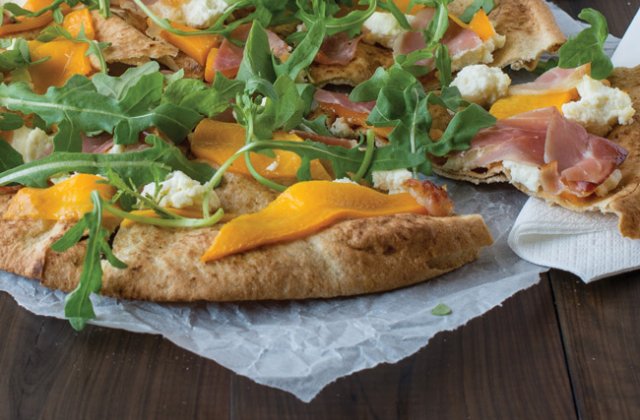 Papaya is an excellent source of vitamin A, provides nearly three times the recommended daily intake of vitamin C, and is a good source of folate, dietary fibre, magnesium, potassium, copper, and vitamin K.
Ingredients (serves 2-4)
2 large Lebanese flatbread wraps, or pre-baked pizza bases
2 tsp olive oil
1 garlic clove
250 g yellow paw paw
100 g prosciutto, thinly shaved
120g fresh ricotta
2 handfuls rocket
METHOD
Preheat oven to 200°C (400°F). Slice garlic clove in half and rub flatbreads with cut side. Brush breads with olive oil.
Crumble ricotta over bases. Peel, de-seed and thinly slice paw paw, then layer over ricotta. Cut prosciutto slices into large ribbons and arrange over other ingredients.
Bake on a pan or pizza stone for six minutes, until prosciutto is sizzling and bases are just crisp. Top with rocket and drizzle with a bit of extra oil, slice into wedges and serve warm.
Tip: For an extra crispy base, bake pizza directly on oven rack.

Recipe and images from Papaya Australia