Coconut, cranberry and cacao truffles recipe
Coconut, cranberry and cacao truffles recipe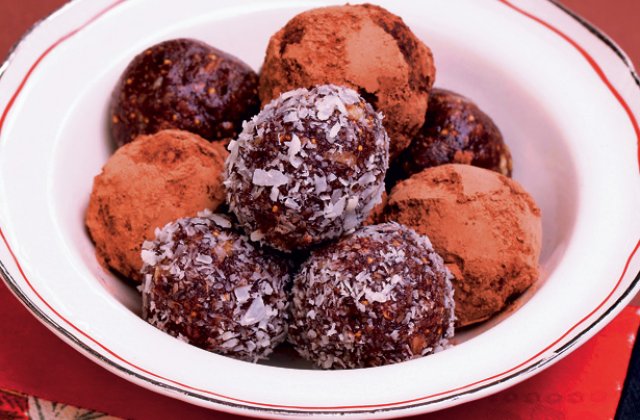 Janella Purcell uses organic dried fruit and nuts, cacao powder and spices to make these tasty truffles.
I love making little balls of goodness like these. You can use whatever organic dried fruit and nuts you have in the cupboard, and experiment with different spices. Sometimes I add seeds, LSA, spirulina or barley grass powder. They will keep in the pantry for months. Chill them if you like a firmer treat.
Ingredients (makes about 20)
1 cup desiccated coconut
1⁄3 cup flax meal
½ cup walnuts, chopped
1 cup dried, organic cranberries, roughly chopped
1 cup dates, organic pitted and roughly chopped
½ cup raw cacao powder
½ tsp cardamom powder
1 tsp lemon rind, zested
½ to ¾ cup coconut oil
Extra raw cacao powder and ground up walnuts to roll balls in
Method
Place the dried fruit in the processor first, then the rest of the ingredients, leaving the oil until last. Blitz until smooth and glossy. Roll into balls the size of a walnut, then add in extra cacao powder or walnut meal.