Chocolate-cherry torte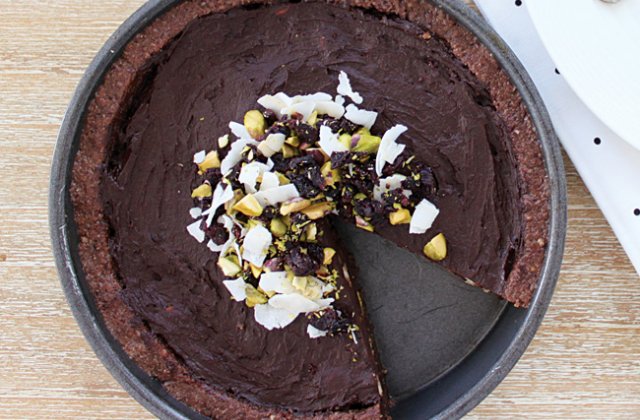 A decadent raw chocolate dessert that's perfect for a dinner party.
Ingredients (serves 8)
For the crust
1 cup hazelnut meal
2 cups almond meal
1 tsp cinnamon
¼ cup rice malt syrup
1 tbsp raw cacao powder
1 tsp pure vanilla essence
1⁄3 cup organic coconut oil
Pinch Himalayan sea salt
For the filling
3 tbsp organic coconut butter
1½ tbsp organic coconut oil
1 cup raw cacao powder
5 medjool dates soaked in ½ cup water (reserved)
2 tbsp rice malt syrup
1 tbsp allspice
1⁄3 cup unsweetened dried cherries
½ cup raw almonds
½ cup raw pistachios
Garnish (optional)
1 tbsp chopped pistachios
½ tbsp unsweetened dried cherries, chopped
1 tbsp coconut flakes
Method
Make the crust by mixing all ingredients in a bowl until well combined. Press into an eight-inch pie tin and refrigerate.
Meanwhile, make the ganache filling by blending all ingredients (aside from nuts and cherries) until smooth. Add reserved date water a little at a time until a thick but spreadable consistency is reached.
In a separate bowl, fold nuts and cherries into the ganache. Spread mix into pie crust, smoothing the top with the back of a spoon.
Refrigerate again for 30 minutes, then decorate, slice and enjoy.
Recipe from Sally O'Neil, The-fit-foodie.com