Mango and lime sorbet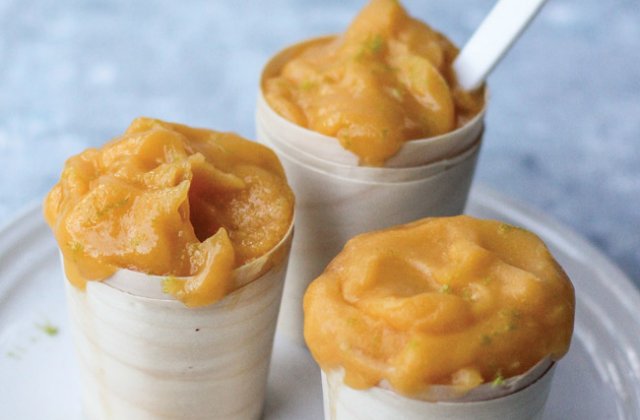 Mangoes are a quintessential flavour of summer and this simple three-ingredient sorbet is ready in under an hour.
With the addition of fresh lime, mango is utterly refreshing. You can buy fresh mangoes when in season, peel, dice and freeze on a baking tray then store chunks in zip lock bags in the freezer.

Ingredients (serves 2-4)
1–2 Kensington Pride mangoes (250g or 1½ cups diced mango flesh)
½ lime (60g), peeled and zested
½ cup filtered water

METHOD
Place diced mango in an airtight container and freeze for one hour before using.
Once frozen, place mango, peeled lime (reserve the peel for zesting) and water in a blender and process until smooth. Divide between two to four serving cups and grate over the zest from the lime skin. Serve immediately or keep in the freezer for up to 30 minutes before serving.
Recipe and images from Martyna Angell
You might like: The health benefits of mangoes