Japchae (glass noodles)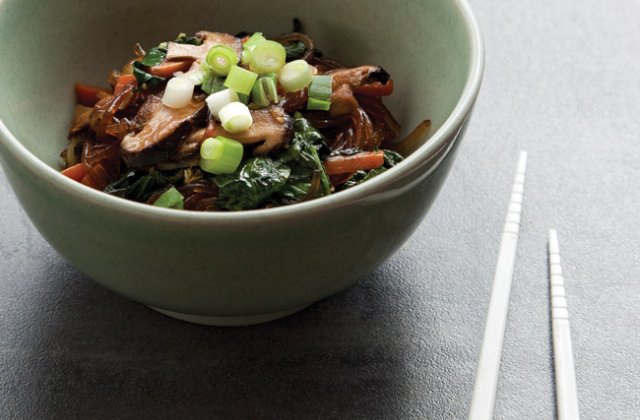 This sweet potato noodle dish has a hint of sweetness and is perfect as a side to your favourite meat or vegetarian meal.
Ingredients (serves 4-5)
For the noodles
200g sweet potato noodles (glass noodles)
75g shiitake mushrooms
1 carrot
1 brown onion
1 ½ cup chopped Chinese cabbage
125g tofu
2 cloves garlic
2 tbsp sesame oil
2 tbsp tamari
2 tbsp coconut sugar
2 tsp mirin
2 cups spinach

For the sauce
½ cup tamari
2 tbsp coconut sugar
1 tbsp rice malt syrup
4 cloves garlic
2 tbsp sesame oil
½ tsp kelp flakes
To serve
2 spring onions

Method
Begin by preparing your glass noodles and setting them aside. Simply add noodles into a bowl of boiling water and let sit for 15 to 20 minutes or until tender. Drain liquid and set aside.

In a large fry pan or medium saucepan add in the sliced shiitake mushrooms, the carrot (julienned), the onion (diced) and the Chinese cabbage. Add in the tofu (cut into cubes), garlic, sesame oil, tamari, coconut sugar and mirin and let cook for 10 minutes or until vegetables are softened and onions are translucent. Add in the spinach and toss all ingredients through the glass noodles.

In a small bowl mix the sauce ingredients: tamari, coconut sugar, rice malt syrup, garlic (crushed), sesame oil and kelp flakes. Mix together and pour over the noodles. Combine everything together and serve with chopped spring onions.

Best enjoyed immediately.

Recipe by Kate Bradley image by Elisa Watson