Sautéed kale (gluten free)
Sautéed kale (gluten free)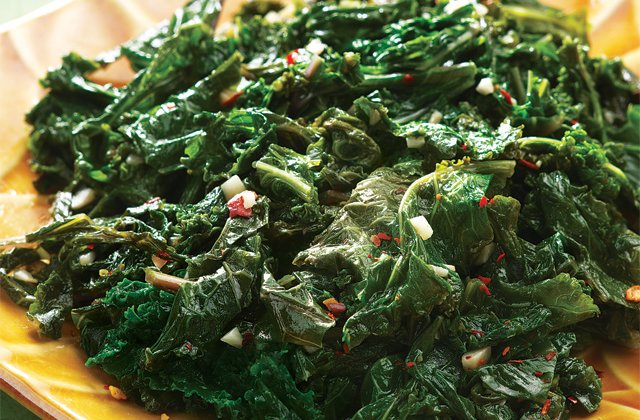 Sautéed kale seasoned with a blast of sherry vinegar is a deluxe combination.
Ingredients (serves 4)
1 tbsp plus 1 tsp extra-virgin olive oil, divided
700 g kale, ribs removed, coarsely chopped (see Tip)
½ cup water
2 cloves garlic, minced
¼ tsp crushed red pepper
2 - 3 tsp sherry vinegar or red-wine vinegar
Salt, to taste
Method
Heat one tablespoon oil in a casserole dish over medium heat. Add kale and cook, tossing with two large spoons, until bright green, about one minute.
Add water, reduce heat to medium-low, cover and cook, stirring occasionally, until the kale is tender, 12 to 15 minutes.
Push kale to one side, add the remaining one teaspoon oil to the empty side and cook garlic and crushed red pepper in it until fragrant, 30 seconds to one minute.
Remove from the heat and toss together. Stir in vinegar to taste and salt.
Recipe Tip: When preparing kale for these recipes, remove the tough ribs, chop or tear the kale as directed, then wash it – allowing some water to cling to the leaves. The moisture helps steam the kale during the first stages of cooking.