Grilled Haloumi with pomegranate and sumac dressing
Grilled Haloumi with pomegranate and sumac dressing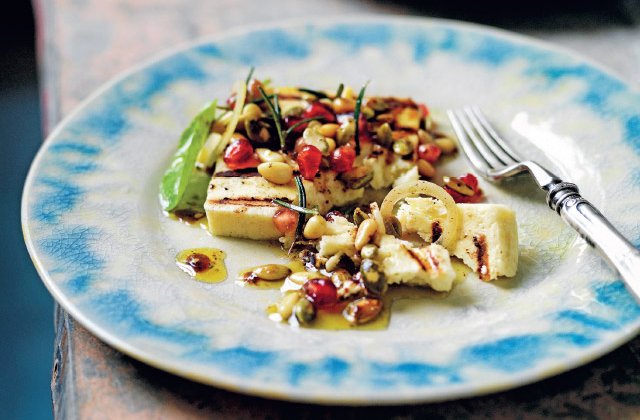 Simple, fresh and cooked with love. Heaven.
Ingredients (Serves 8)
1 tsp pepitas (pumpkin seeds), toasted

Seeds from 1 small pomegranate

1 tbsp pomegranate molasses

1 tsp za'atar (or dried thyme)

1 cocktail onion, finely diced

1 tsp pine nuts, toasted

1 tbsp sumac

A few rosemary sprigs

150 ml olive oil

Pinch of salt flakes

300 g haloumi cheese, sliced into 1 cm thick portions
Method
Combine all the ingredients, except the haloumi, in a mixing bowl. Check for seasoning and adjust if necessary.
Heat a large chargrill pan or frying pan over high heat. Add the haloumi and cook for 1 minute on each side or until golden. Press the haloumi with a spatula; when there is no resistance the haloumi is cooked. Remove the haloumi from the pan and transfer onto paper towel to drain, then divide among serving plates. Drizzle over the pomegranate and sumac dressing and serve immediately.
Recipe from Shane Delia's Spice Journey: Adventures in Middle Eastern Cooking, $49.99 from Murdoch Books