Beetroot and poached pear breakfast bruschetta
Beetroot and poached pear breakfast bruschetta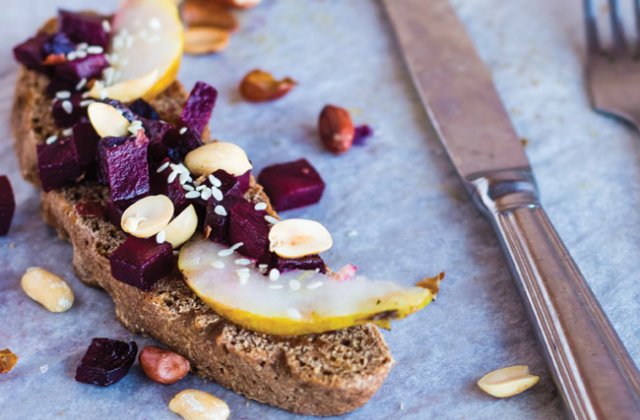 Looking for simple and exciting breakfast ideas? Top your toast with a delicious combination of peanuts, pear and beetroot.
Ingredients (serves 2)
2 pears
2 cups coconut sugar
1 vanilla bean, split, seeds scraped
2 slices rye sourdough (or gluten free) bread
Olive oil to drizzle
Tin whole beetroot, diced
¼ cup roasted peanuts (or walnuts)
1 tbsp sesame seeds
Method
Preheat over to 200°C. Peel pear from stem down. Place two cups coconut sugar and six cups water in a saucepan over medium heat and stir until sugar has dissolved. Increase heat and simmer for five minutes. Add pears and vanilla bean. Cover and simmer for 20 mins or until soft. Allow to cool then slice thinly.
Toast bread. Drizzle with olive oil. Arrange pear and beetroot on top then sprinkle with nuts and sesame seeds.