Stuffed za'atar-roasted squash
Stuffed za'atar-roasted squash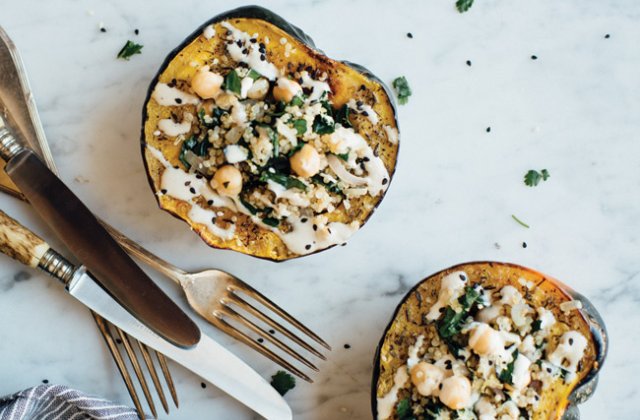 These little stuffed vegetables are a great healthy dinner idea.
Ingredients (makes 6)
Squash
3 acorn squash, washed and cut in half
2 tbsp za'atar
1 medium shallot, diced
2 cups chickpeas, cooked
1 tsp ground cumin
1⁄8 tsp cayenne (optional)
3 kale leaves, destemmed, shredded
½ cup quinoa, cooked
Salt and pepper
½ tbsp extra virgin olive oil
Sesame seeds, for garnish
Lemon-pepper tahini
¼ cup tahini paste
1 tbsp fresh lemon juice
¼ tsp freshly ground pepper
1 clove garlic, minced
Sea salt
¼ cup water
Method
Preheat oven to 200ºC and line a baking tray with paper. Place squash cut side up, and brush with olive oil. Season with a pinch of salt and evenly sprinkle the za'atar spice. Place in oven and bake until tender; roughly 40 to 50 minutes. Remove and set aside.
Meanwhile, heat an eight to 10 inch skillet on medium. Once hot, add olive oil and shallot and saute for a few minutes, until translucent and soft. Add chickpeas, cumin, cayenne pepper and a couple pinches of salt. Cook for one to two minutes.
Add kale and cook until a bit wilted. Remove from heat and set aside.
In a large mixing bowl, combine the sauteed chickpeas and kale with the quinoa.
Stuff each squash half with roughly half a cup of the quinoa mix (more or less depending on the size of your acorn squash). Serve warm with a few drizzles of the tahini sauce, and sesame seeds.
For the tahini sauce: In a small mixing bowl, combine tahini, lemon juice, pepper, garlic, a few pinches of salt, and a quarter of a cup of water. If consistency is too thick, add more water. Store in a lidded jar in the refrigerator until ready to use. (If the tahini sauce has thickened while refrigerated, add more water, a few teaspoons at a time, to thin it out.)

Recipe and images by Lindsey Love.