Vegie Head hand rolls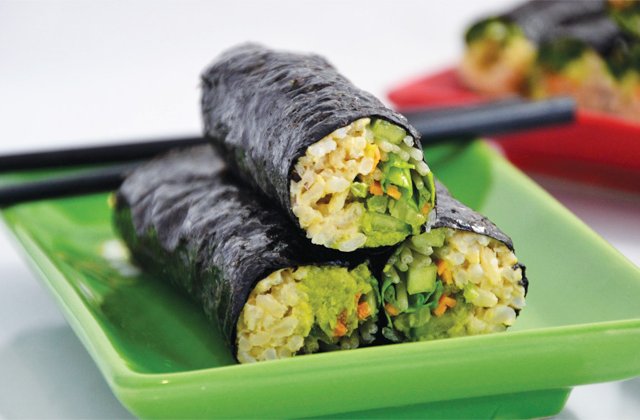 Adele from Vegie Head shares some vegan recipes.
Ingredients (Makes 12 x 1" slices, or 4 large rolls)
1 cup brown rice, soaked for 1 hour (or cooked quinoa)
2 nori sheets
2 tbsp vegan mayonnaise or hommus
Wasabi paste
½ carrot, julienned
1 avocado, sliced
½ cucumber, julienned
Snow pea sprouts
Butter lettuce, diced finely
Coriander
Method

Drain and rinse rice well. In a large pot, bring two cups of water to the boil and add rice. Leave to simmer for 40 minutes, or until cooked and then drain and allow it to cool. Then mix with vegan mayo or hommus.
Lay the nori sheet down and, with wet fingers, flatten the rice to three edges and leave the fourth top edge free, as this is where the sheet needs to close.
Close to the bottom edge, spoon the wasabi onto the rice and layer the vegetables lengthways, but don't overfill.
Gently roll the nori sheet, squeezing the filling down each time and tucking it under itself.
Once you reach the top, wet the edge, and fold over – you may need to hold it for a few moments until it sticks.
Recipe from Adele at Vegie Head.