Roasted pumpkin 
& sweet potato soup (gluten & dairy free)
Roasted pumpkin 
& sweet potato soup (gluten & dairy free)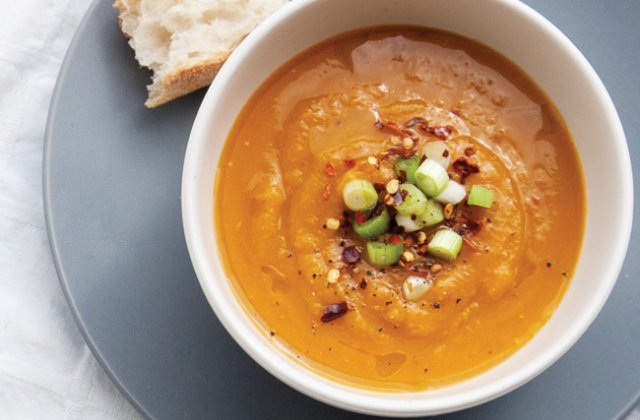 This roasted pumpkin and sweet potato soup is gluten and dairy free.
Ingredients (serves 4)
½ Kent pumpkin
1 large sweet potato
1 brown onion
3 cloves garlic
¾ litre vegetable stock
1 tbsp olive oil
½ tsp salt
½ tsp cracked black pepper
To serve
2 spring onions
1 tbsp chilli flakes
½ tsp cracked black pepper
1 tsp olive oil

Method
Roughly chop pumpkin and sweet potato to large pieces. Leave the skins on. Roll in olive oil, sprinkle with salt and pepper. Slow cook in oven until flesh is soft.
While pumpkin and sweet potato are cooking, slowly cook onion in olive oil until a light caramel colour, add garlic and cook for five minutes.
Remove skin from pumpkin and sweet potato. Discard the skins. Place in a blender with onion, garlic and vegie stock and blend until smooth.
To serve, sprinkle with chopped spring onions, chilli, pepper to taste and a drizzle of olive oil.
Recipe from Kate Bradley at Kenko Kitchen; photo credit: Elisa Watson.
NEXT: Browse more healthy soup recipes or connect with us on Facebook!