Cuban-spiced fish, fennel & mango skewers
Cuban-spiced fish, fennel & mango skewers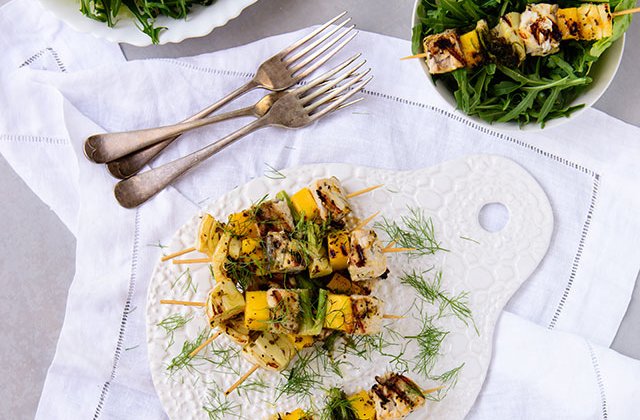 Jennifer Jenner spices up the grill with this cuban-spiced fish.
Ingredients (serves 4)
600 g barramundi (or other firm white fish)
1 firm mango, peeled
1 bulb fennel
FOR THE MARINADE
2 tsp ground cumin
2 tsp dried oregano leaves
1 clove garlic
2 tsp lime juice
1 tbsp orange juice
Zest from 1 orange
1 tbsp olive oil
½ tsp salt
Method
In a small bowl, combine marinade ingredients and whisk well. Remove fronds from fennel and reserve. Cut fish, mango and fennel bulb into 2 cm cubes. Thread ingredients onto skewers, pour over marinade, turn to coat. Preheat BBQ grill or grill pan to medium, cook skewers for 5 to 10 minutes until fish flakes easily (cooking time will depend on what kind of fish you use). Garnish with fennel fronds to serve.
Recipe by 84thand3rd.
NEXT: Kimchi pork belly kabobs.