Crispy-skin mullet with marinated zucchini
Crispy-skin mullet with marinated zucchini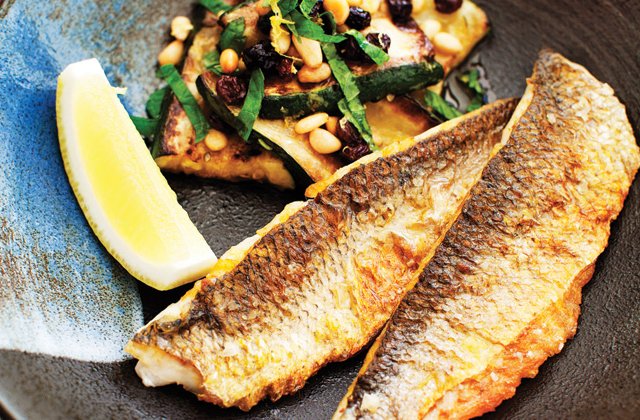 High in omega-3 and low in fat, this seafood recipe is a family favourite.
Ingredients
4 fillets of mullet, pin-boned
and skin on
2 large zucchinis
Olive oil
¼ cup pine nuts
1/3 cup raisins
zest of one lemon
¼ cup mint leaves, chopped roughly
2 tbsp red wine vinegar
Salt and pepper
Method
Preheat oven to 150˚C. Toast pinenuts on a tray until light golden brown in colour, for approximately five minutes.
Cut zucchini in half lengthways and then into slices. Pat slices dry. Shallow fry the zucchini pieces in olive oil in small batches, until dark golden. Remove and drain on absorbent paper.
Layer the zucchini in a bowl or platter, sprinkling each layer with pine nuts, raisins, lemon zest and mint. When all has been used, pour over red wine vinegar and two tablespoons of fresh extra virgin olive oil.
Keep until needed, but don't refrigerate.
To cook the fish, heat oil in a heavy based fry pan. Pat the skin of the fillet with paper towel to dry, and season both sides lightly with salt. Place fillets skin-side down into the oil, pressing down lightly.
Cook on a low to medium heat until the skin is dark golden and lifts easily, for approximately four minutes.
If the skin is sticking to the pan when you try to flip them, it's not ready. Leave them for another 30 seconds to one minute and they should come off cleanly. Flip the fillets and cook for one minute on the flesh side, or until cooked to your liking.
Serve with the marinated zucchini.
Recipe from Cassie Duncan at Sustainable Table