Atlantic salmon on a bed of kale
Atlantic salmon on a bed of kale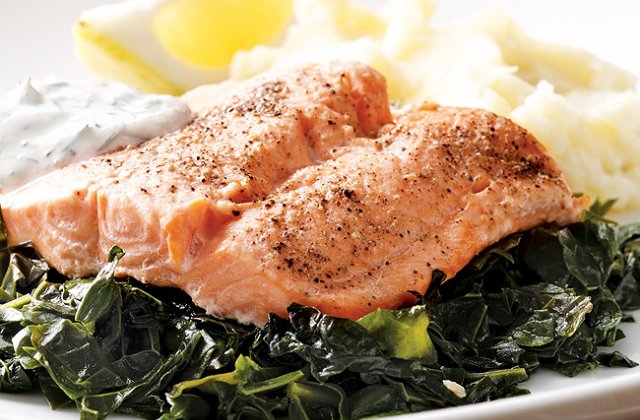 Looking for quick and easy dinner ideas? Try Atlantic salmon on a bed of kale.
Ingredients (serves 4)
1 tbsp extra-virgin olive oil

1 large shallot, thinly sliced

1 cup reduced-salt chicken stock

¼ cup water

680g kale, tough stems removed, coarsely chopped (14–16 cups)

500g skinned Atlantic salmon fillet, cut into 4 portions

¼ tsp salt

¼ tsp freshly ground pepper

¼ cup reduced-fat sour cream

2 tsp horseradish

1 tbsp chopped fresh dill or 1 tsp dried

4 lemon wedges for garnish
Method
Heat oil in a large pan over medium heat. Cook shallot, stirring, until beginning to soften, about two minutes. Add stock, water and half the kale; cook, stirring, until slightly wilted, about one minute. Add the remaining kale and cook until tender, about eight minutes.
Sprinkle fish with salt and pepper and place on the kale. Cover and cook until the fish is just cooked through, five to seven minutes.
Browse more salmon recipes or connect with us on Facebook!