Potato rosti with smoked salmon, cream cheese and caviar
Potato rosti with smoked salmon, cream cheese and caviar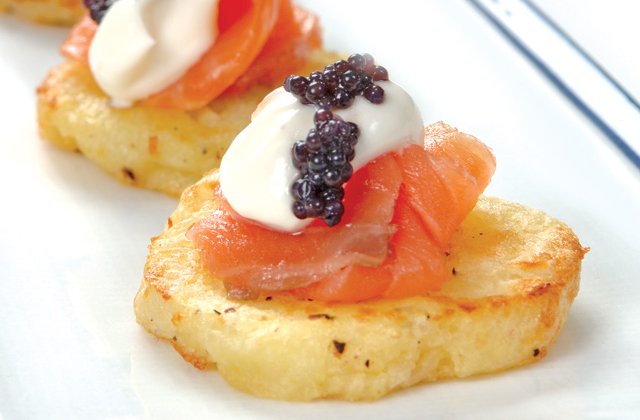 Throwing a dinner party? Canapés always go down well with guests. Try these potato rostis with smoked salmon, cream cheese and caviar.
Ingredients (serves 2)
2 medium-sized boiled potatoes peeled
50g of smoked salmon
1 teaspoon of cream cheese
1 tsp of salmon caviar
Olive oil
Boil potatoes until almost cooked through. Allow to cool and then grate potato finely. Season to taste and then take a small amount and mould into small circular shape. Brush pan with oil and place on heat.
Pan-fry each rosti until golden brown on both sides. Allow to cool.
Add a small amount of smoked salmon on rosti. Top with small amount of cream cheese and caviar.