Sesame seared tuna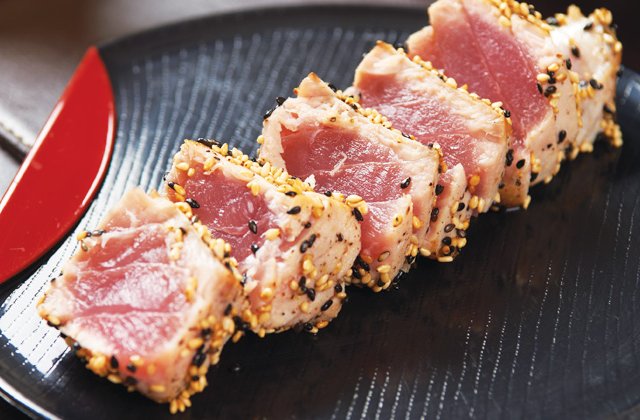 Sesame seared tuna is a delicious Japanese delicacy.
Ingredients (serves 2)
200g sashimi tuna
Salt and pepper for seasoning
2 tsp roasted black sesame seeds
2 tsp roasted white sesame seeds
1 tbs fish roe (optional)
1 tbs roasted sesame sauce (optional)
tsp olive oil
Method
Season the tuna and rub with oil on both sides. Heat a frypan to medium heat. Place the tuna in the centre of the pan and cook until it turns brown half the way up. Turn the tuna and cook for a further 30 seconds.
Sprinkle a chopping board with the black and white sesame seeds. Roll the cooked tuna in the seeds until completely covered. Cut the tuna into thin slices. It should still be rare in the middle.
Place the sliced tuna on a serving plate. Add the fish roe and sesame sauce (if desired) over the top of the tuna and serve.
Cooking Tip
If eating semi-raw fish makes you feel uneasy, fear not. Tuna doesn't taste particularly 'fishy', and the smooth, velvety texture is sure to convert you to this very Japanese delicacy.
Salmon, kingfish and even chicken sashimi are popular with the locals – but perhaps leave the chicken to when you're a little more confident with the concept. Bon appetit!