Orange and vanilla bean raw cheesecake (vegan)
Orange and vanilla bean raw cheesecake (vegan)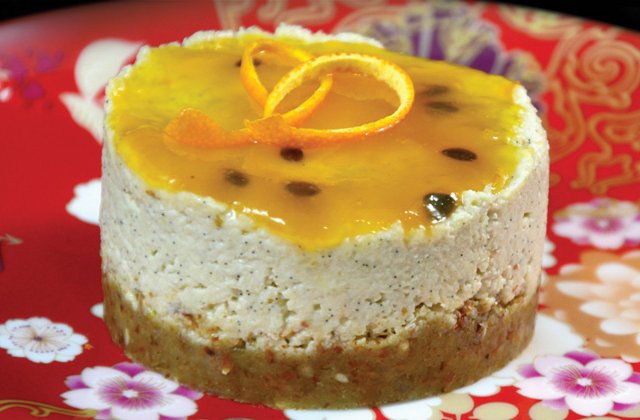 Guilt-free vegan desserts that don't weigh heavy on your conscience.
Ingredients (makes 4 small cheesecakes)

Base
½ cup almonds
Pinch salt
2–3 saffron strands, soaked in water for at least an hour (use water, not strands).
¼ tsp paprika
¼ tsp raw cacao powder
1 tbsp brown rice syrup
Filling
1 cup raw cashews, soaked overnight
1 whole vanilla bean pod, scraped
1 tbsp orange zest
1 tbsp raw cacao butter
1 tbsp raw coconut butter
1 tbsp raw coconut sugar
1–2 tbsp water
To serve
Method
Blend base ingredients together and, using a food ring (coat with coconut oil to grease), gently press down.
Blend filling ingredients together until smooth, adding any water as needed and spoon into food ring.
Refrigerate for at least two hours then top with fresh passionfruit and orange zest to serve.
Recipe from Adele at Vegie Head.