Choc-almond bread and butter pudding
Choc-almond bread and butter pudding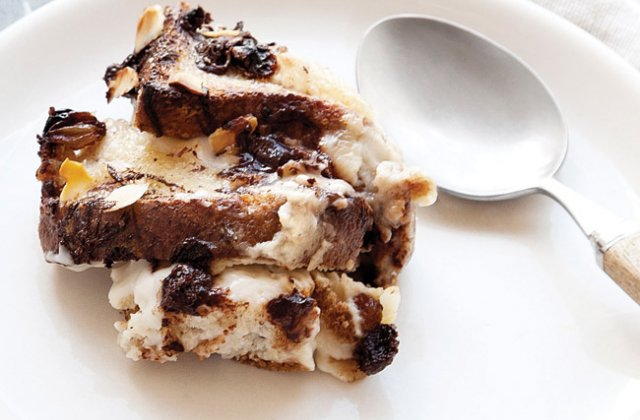 Love bread and butter pudding? This healthy reinvention of a classic pudd' includes lacuma and coconut cream.
Ingredients (serves 4)
5 tsp coconut oil, or choc hazelnut butter
10 slices gluten-free bread
1 cup soy milk
1½ cups coconut cream
1 tbsp stevia
½ cup cornflour
1 tsp lucuma
1 tsp vanilla extract
75 g dark chocolate
2 tbsp flaked almonds
2 tbsp sultanas

Method
Preheat oven to 180°C (350°F).
Lightly spread half a teaspoon of coconut oil or chocolate hazelnut butter (for a more chocolatey pudding) on each slice of bread. Cut each slice in half and arrange in a greased oven-safe 24 x 18 cm dish.
In a small saucepan over low heat, put the soy milk, coconut cream, stevia, cornflour and lucuma. Whisk until smooth. Add the vanilla and whisk over gentle heat until the mixture starts to thicken slightly, around three minutes.
Pour custard mixture evenly over the bread slices. Grate over the dark chocolate and sprinkle with the flaked almonds and sultanas. Bake in the oven for 15 minutes or until golden and the custard has become thick. Serve warm.

Recipe and images from Kenko Kitchen by Kate Bradley

NEXT: Banana date pudding