Native wattleseed ice-cream with toasted macadamias
Native wattleseed ice-cream with toasted macadamias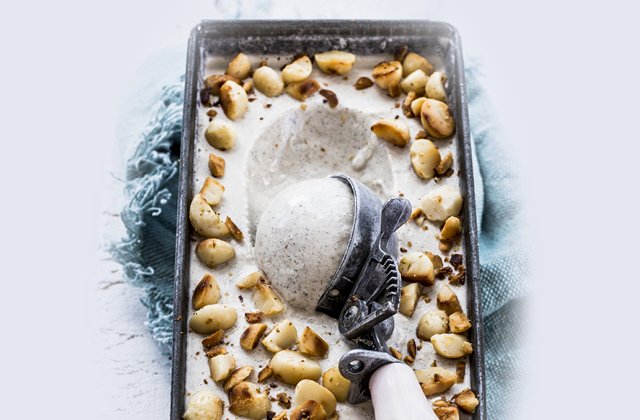 Cool off this summer with this delicious wattleseed flavoured ice-cream.
Ingredients (Serves 6 to 8)
1 tbsp wattleseed, ground
⅓ cup rice malt syrup or raw honey
2 x 400 ml cans coconut cream
1 x 400 ml can coconut milk
1 ½ tbsp vanilla powder or essence
½ cup macadamias, crushed
Method
Prepare the wattleseed by measuring out a tablespoon into a cup and adding a tablespoon of near boiling water then leave to soak for 5 minutes.
Place the wattleseed, rice malt syrup, coconut cream, coconut milk and vanilla in a blender and blend until smooth.
Pour the mixture into large zip-lock bags, squeezing out as much air as possible, and seal.
Lay the bags on a baking tray or dinner plate and freeze until just frozen (approximately 2 hours).
Remove the zip-locks from the freezer and bend them to break up the mixture into small pieces.
Place the mixture in a food processor (in batches if needed) and process until smooth.
Spoon the ice-cream mixture into a 2-litre-capacity tin and freeze for 3 hours or until just frozen.
Toast the macadamias in a hot, dry pan for a few minutes until just golden, the sprinkle over the ice-cream to serve.
Recipes and food photography: Sally O'Neil, The Fit Foodie.