Cherry-raspberry buckle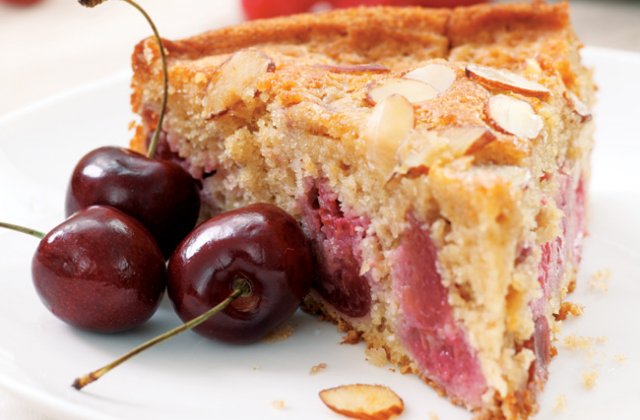 Buckles are a traditional fruity dessert that's like a soft, moist cake, using a combination of raspberries and cherries.
Ingredients (serves 8)
1½ cups wholemeal flour
2 tsp baking powder
½ tsp ground cinnamon
¼ tsp salt
½ cup almond milk (or other milk substitute)
½ cup unsweetened stewed apples, pureed
½ cup coconut oil
½ cup coconut sugar
1 large egg
1 tsp vanilla extract
1½ cups raspberries, fresh or frozen
1½ cups halved pitted sweet cherries, fresh or frozen
2 tbsp sliced almonds
Method
Preheat oven to 180°C. Coat a 22cm baking dish or springform pan with cooking spray. (If using frozen fruit, let stand for about 30 minutes, stirring occasionally, to partially defrost before folding into the batter.)
Whisk flour, baking powder, cinnamon and salt in a large bowl. Whisk milk, stewed apples, oil, sugar, egg and vanilla in a medium bowl until blended. Add the wet ingredients to the dry ingredients and gently fold until blended. Sprinkle berries and cherries on top and fold just until blended. Spoon the batter into the prepared baking dish. Sprinkle with almonds.
Bake until golden brown and a skewer inserted in the centre comes out with just a few moist crumbs, 45 to 55 minutes. Let cool for about 30 minutes before serving.
Browse more cake recipes>>