Raw chocolate mousse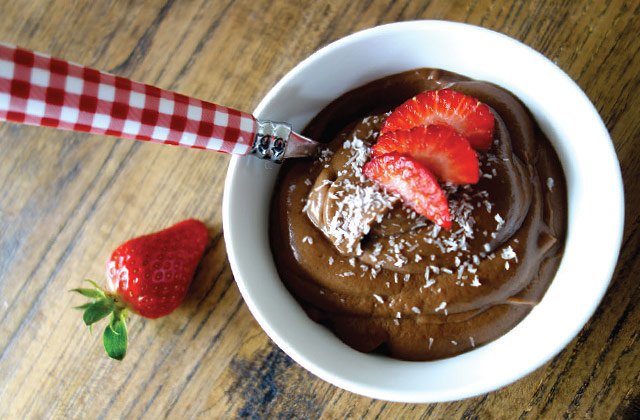 Raw chocolate mousse made with avocado, coconut and raw cacao powder.
Ingredients (serves 2–4)
2 avocados
½ cup coconut water
Meat of 1 young coconut
1 cup almond milk
3 medjool dates (softened by soaking in just boiled hot water for 20 mins)
½ cup raw cacao or carob powder
1 tsp vanilla extract
4 tbsp raw dark agave syrup
Pinch of salt
3 tsp stevia – optional
Strawberries for serving
Desiccated coconut for serving
Method
Put all ingredients into a high-speed blender and process until smooth.
If the mixture is too thick, you may want to add more almond milk until you get the right consistency. You don't want it to be too runny, as it should hold its form on a spoon.
Adjust to taste: if you prefer it sweeter, add a few teaspoons of stevia in and stir.
Serve with a sprinkle of dessicated coconut and freshly sliced strawberries.
Recipe from Easy Raw Food Recipes to get you Started eBook, $15.
Browse more raw chocolate recipes>>