Superfood caramels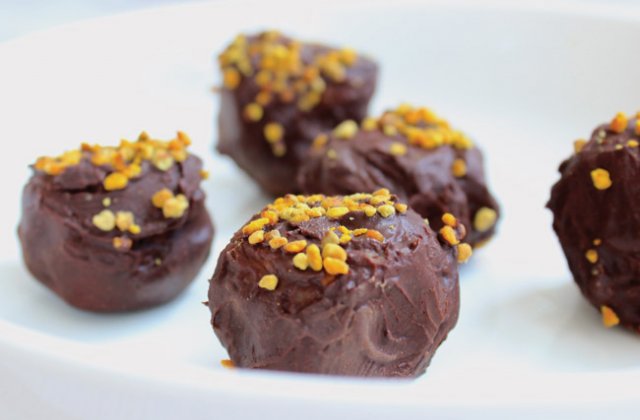 These chocolatey treats are sprinkled with bee pollen, one of nature's most nourishing foods.
Ingredients (makes 6)
Caramel
1 heaped tbsp tahini or almond butter
½ tbsp melted coconut oil
2 tbsp rice malt syrup
½ teaspoon natural vanilla extract
10 g baobab powder (optional)
Pinch Himalayan sea salt
Chocolate
1 tbsp melted coconut oil
1 tbsp raw cacao powder
1 tsp rice malt syrup
Garnish

METHOD
In a bowl, add the tahini (warmed slightly if possible), coconut oil, rice malt syrup, vanilla and salt.
Stir until thoroughly combined, then add the baobab if using, and stir again until thickened. Refrigerate while prepping the chocolate mix.
Mix all chocolate ingredients together until smooth.
Roll cool caramel into balls and dip in the chocolate.
Sprinkle with bee pollen and freeze for 15 minutes until set.
Tip: Rice malt syrup can be substituted with raw honey or maple syrup, as desired.
Recipe and images by Sally O'Neil