Christmas cream puff 'pavlova'
Christmas cream puff 'pavlova'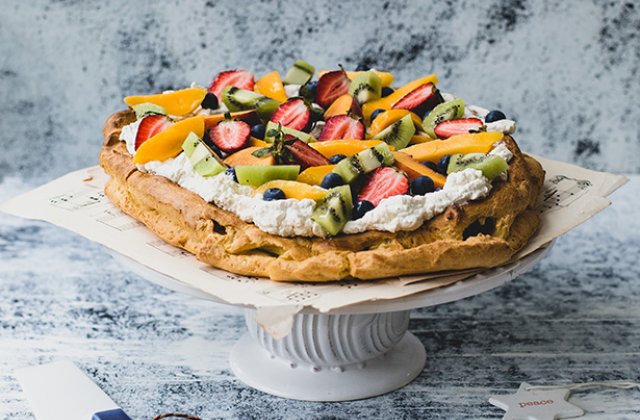 Pavlova is a quintessential Christmas dessert in Australia and over the Tasman, but the traditional recipe contains a copious amount of sugar both in the base and the cream. Matryna Angell has the best alternative.
To make the dessert just as indulgent yet sugar free, why not use choux pastry (made with rice flour in a gluten-free version) and top it with all of the traditional toppings for a sugar-free treat?
Ingredients (serves 12)

Base
100 g butter or coconut oil
1 ¼ cups water
1 ¼ cup unbleached plain flour or rice flour
5 eggs
Whipped cream
450 ml fresh cream
1 tsp vanilla powder
15 drops Stevia liquid
To top
3 cups fresh chopped fruit (berries, mango, kiwifruit, pitted cherries, passionfruit)
Method
Preheat oven to 220°C (200°C fan-forced) and line a large baking tray with baking paper.
In a large saucepan, melt butter or coconut oil and water over medium heat, bring to a simmer. Add flour and mix vigorously with a wooden spoon until a smooth dough ball forms. Place the dough in a large bowl of a stand mixer and set aside for 10 minutes for the dough to cool down. Turn the stand mixer on low speed and add eggs, one at a time. Continue to mix until the eggs are well incorporated and the dough thick and glossy. Turn the dough out onto the paper-lined baking tray and spread into a centimetre-thick circle.
Bake for 15 minutes, then reduce temperature to 180°C and bake for a further 15 minutes. Turn the oven off and open the door and leave the base in for a further 5 minutes. Transfer to a wire rack and leave to cool completely.
Whip cream with vanilla and stevia drops, if using, until stiff peaks. Transfer base to a serving platter and spread with whipped cream. Top with chopped fruit and serve immediately or store in the fridge, covered, for up to a day.
Words, recipes and photography: Martyna Angell.
Looking for more Christmas recipes to add to your feast? Grab the December 2016 edition to make all your Christmas foodie dreams come true.