Matchocolate cups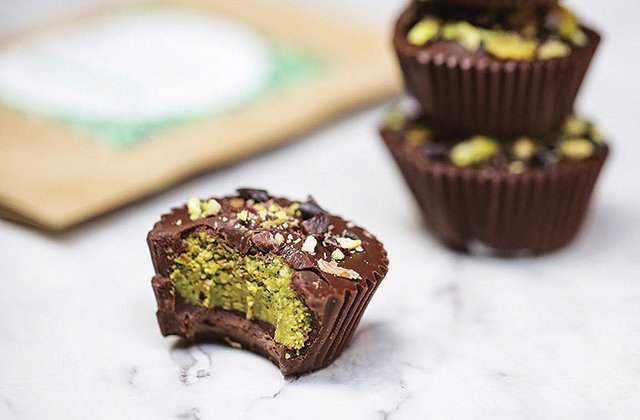 These matchocolate cups are one of the many green creations you can make with Matcha Maiden's collection.
Ingredients
2 cups dark chocolate chips (or vegan chocolate chips)
2 tbsp coconut oil
2 cups shelled pistachios (or other nut of choice)
1 tsp Mix N Matcha powder
1 tsp agave nectar
Toppings of choice (e.g. chopped pistachios, cacao nibs)
Method
Line a muffin tin with baking cups. Melt the chocolate and 1 tablespoon of coconut oil together. Spoon about 1 tbsp of chocolate into the bottom of each baking cup to create the base. Refrigerate for 10 mins to harden. Meanwhile, combine pistachios, matcha powder, remaining coconut oil and agave nectar in a food processor and process until mixture starts to stick together.
You may need to stop now and then to scrape down the sides and/or add more coconut oil. Take muffin tin out of the fridge and press 1 tbsp of the matcha filling into each chocolate disc.
The filling should be smaller than the chocolate disc base. Pour the remaining melted chocolate over the top of each cup and return tray to the fridge to harden slightly – about 5 minutes.
Add toppings of choice then return to the fridge to set completely!
Recipe by Sarah Holloway @matchamaiden