Churros con chocolate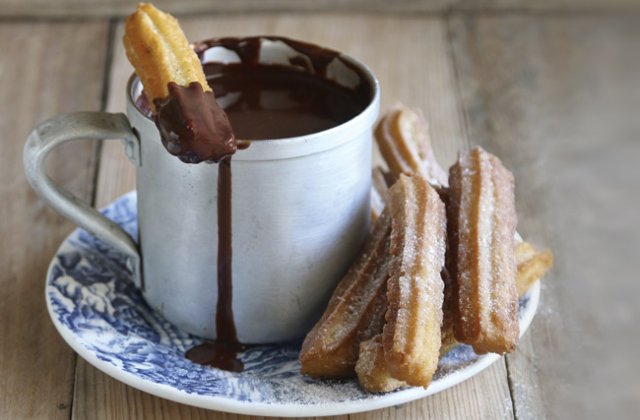 Churros with chocolate is one of Spanish chef Miguel Meastre's favourite comfort foods. He shared his recipe, so it can be yours too!
Ingredients
250 ml milk
1 tbsp caster sugar
50 g unsalted butter, chopped
2 vanilla beans, split, seeds scraped out
115 g plain flour
3 egg yolks
Vegetable oil, for deep frying
Caster sugar, to dust
Chocolate sauce
Method
To make chocolate sauce, stir cream in a small saucepan until hot, add to a bowl with chocolate, whisk until smooth then whisk in condensed milk and milk. Cover to keep warm.
Bring milk, sugar, butter and vanilla beans and seeds to a boil in a medium saucepan. Discard vanilla beans. Remove from heat.
Sift in flour quickly. Mix well with a whisk until combined and dough comes away from side of pan. Beat in egg yolks one at a time.
Spoon dough into a piping bag fitted with a 2-cm star nozzle.
Heat oil to 180°C. Pipe 5-cm lengths into oil, cutting off the dough with a sharp knife.
Deep fry churros until golden brown. Drain on absorbent paper.
Dust with caster sugar. Serve with chocolate sauce.
Recipe and images from Miguel Maestre
NEXT: try a recipe for raw chocolate bark, or browse more dessert recipes