Field mushroom frittata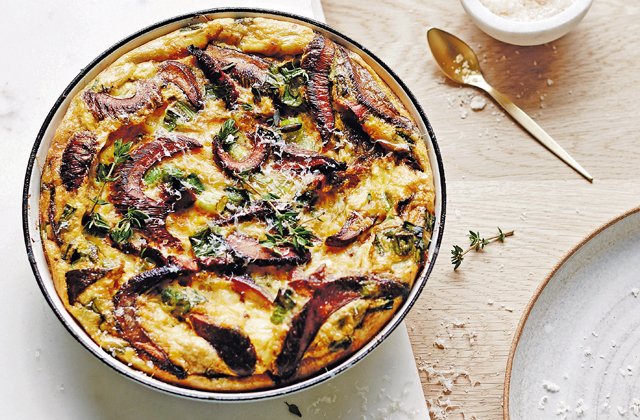 Sometimes eating well really can be this simple. We like to use whatever mushrooms are in season for this satisfying mushroom frittata. In autumn we would use pine mushrooms, but we love to mix it up with different textures and flavours of mushrooms so we can still enjoy this year round.
Ingredients
Serves 4 to 6
Frittata
Ghee, for cooking
200 g field or other mushrooms, cut into 5 mm-thick slices
Sea salt and freshly ground black pepper
8 spring onions, including green parts, cut into 1 cm lengths
1 clove garlic, finely chopped
2 sprigs thyme
8 eggs, lightly beaten
½ cup (40 g) freshly grated parmesan, plus extra to serve
Method
Preheat the oven to 180°C (160°C fan-forced).
Heat a heavy-based 22 cm frying pan over high heat (mine is cast iron).
Add the ghee and sauté the mushrooms until softened, then season with salt and pepper and transfer to a bowl.
Add the spring onion and garlic to the pan and sauté until fragrant.
Return the mushrooms to the pan, add the thyme and stir well.
Pour the egg over the vegetables and stir briefly for 1 minute or until it starts to set on the base of the pan.
Sprinkle the parmesan over the frittata. Transfer to the oven and bake for 10 to 15 minutes or until golden and set.
Remove from the pan, cut into wedges and serve with extra parmesan.
Recipe by Sarah Todd