Chickpea curry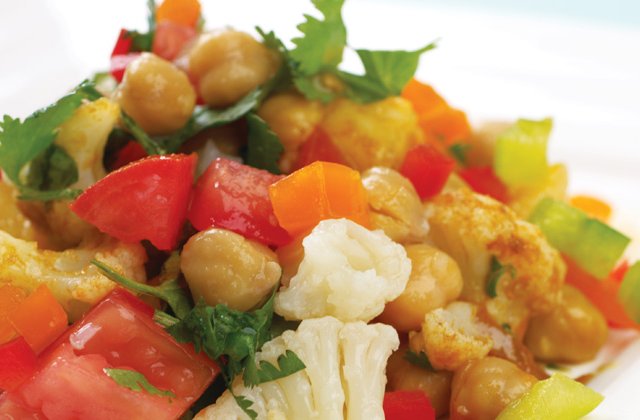 Looking for simple vegetarian recipes? This chickpea curry is packed full of tasty veg and is super easy to make!
Ingredients (serves 2)
1 tbsp curry powder
1 tbsp olive oil
½ red onion, finely sliced
400g canned cooked chickpeas
1 cup red and yellow capsicum, diced
2 tbsp finely chopped coriander
1 cup chopped cauliflower
100g canned tomatoes
½ cup water
Method
Heat large saucepan and add the oil. Place onions in and stir while cooking until translucent. Add curry powder and cook through for about 3 minutes.
Add drained chickpeas, capsicum and cauliflower into saucepan.
Add water, tomatoes and 1 tbsp of coriander. Bring to boil, then lower heat and cook for 10 minutes keeping on low heat.
Serve immediately. Top with the remaining coriander.