Strawberry and chocolate mousse tartlets
Strawberry and chocolate mousse tartlets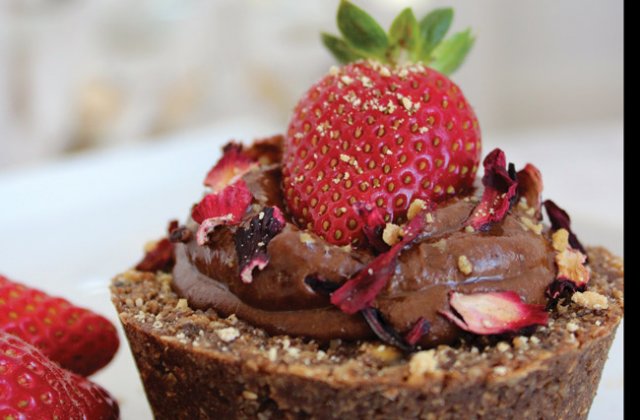 Looking for healthy desserts? We love these strawberry and chocolate mousse tartlets.
The 'mousse' is made from banana and avocado, while the crust is made from almonds, dates and raw cacao. What's not to love?
Ingredients (makes 4)
Crust
1 cup almonds
¼ cup pitted dates
1 tsp bee pollen
2 tbsp raw cacao powder
2 tbsp cacao nibs (optional)
Mousse
1 banana
1 ripe avocado
½ cup raw cacao powder
¼ tsp Himalayan sea salt
Garnish
4 fresh strawberries
2 tsp bee pollen
1 tbsp dried rose petals or red tea blend (optional)

METHOD

Blend together the mousse ingredients and set aside in the fridge.
Blend together crust ingredients and press into silicone muffin moulds.
Fill crust with mousse, top with a fresh strawberry, bee pollen and rose petals (if using). Serve.

NEXT: Raw chocolate mousse.