Detox 'nana ice-cream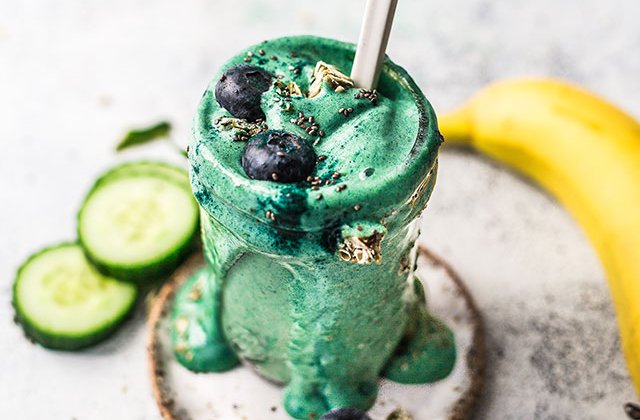 When you need a frosty treat, there's nothing guilty about this dessert.
It's hydrating (thanks to the sneaky cucumber), packed with potassium and tastes delish. You can make it choc-chip by stirring in cacao nibs, too. Spirulina is a rich vegetable protein, and is used widely to boost the immune system thanks to its plethora of vitamins and minerals. It is also said to detox the body of heavy metals – now that's one hard-working dessert!
Ingredients
1 large frozen banana
½ medium cucumber
1 tbsp dairy or non-dairy yoghurt
30 g vanilla pea protein powder (optional)
1 tsp spirulina powder
½ lime, squeezed
¼ cup fresh mint leaves
1 tbsp granola, to serve
1 tbsp blueberries, to serve
Method
Add the banana, cucumber, yoghurt, protein powder (if using), spirulina, lime juice and mint into a high-speed blender.
Blend until smooth and thick.
Serve with granola and blueberries, and devour.
Recipe and images by The Fit Foodie.